Ok, so how do you wash your brand new Sundial shirt

 

you ask?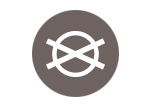 Step 1: Do Not Dry Clean 
The chemicals used in the dry cleaning process, much like perspiration and hair spray, can actually damage specialty fabrics and adhesive applied finishes. Fabrics with a shiny or foil finish will dull, reducing their sparkle factor. This will also damage any Swarovski adhesive and void your stone warranty--considering the amount of time and energy it takes to apply stones by hand, re-stoning is a task no one would want to repeat! Plus, you'll save yourself some serious cash in dry cleaning fees! Also remember; alcohol in aerosol hairspray and deodorant with aluminum chloro-hydrate will fade foil so please avoid applying hairspray while garment is worn (as much as possible) and hang garment when not in use. Wash after each wear to keep perspiration and chemicals from damaging fabric.
---

Step 2: Spot Clean as Needed
Before washing, spot clean troublesome areas with a spot cleaner. It's best to use a product that is gentle and won't damage your specialty fabrics. We DON'T recommend Shout or other similar drug store products - they are too harsh and may leave permanent damage. The go-to choice for our in-house laundry team? Stretch products from Forever New. Just a few sprinkles of this organic, granular wash will be sufficient to wash your shirt! (Add on Forever New wash to your order here).
Before applying the spot cleaner, the most important thing to do is test your fabric! Apply the spot cleaner in a hidden area, like inside of the collar, or request a fabric swatch from us if you'd like to play it safe. Make sure the product you choose doesn't alter the color of your fabric or dull shine.
Once you've determined your chosen product is safe, apply it directly to the stain with your fingertips. Let it soak for 2 minutes, and rinse with cold water.
---

Step 3: Hand Wash
Now it's time to roll up your sleeves! It's best to wash your Sundial garments one at a time, to ensure everything goes smoothly. Hand wash your garment in cold water with a small amount of mild soap. Again, using the right product is key here to ensure you don't damage your shirt. Use a mild soap, such as Forever New. Just a few sprinkles of this organic, granular wash will be sufficient to wash your shirt! Don't be fooled by Woolite though, it's not actually a mild soap - we don't recommend it.
Avoid color bleeding with a few simple tips: use cold water, don't soak or leave your shirt unattended while washing, and remove from the water promptly. Protect against further damage by avoiding abrasion: do not wring, rub or agitate your garment, and wash it inside-out if it has specialty items like rhinestones.
Finish this step by rinsing out the soap thoroughly with cold water.
One question we know is on your mind: Can I put my shirt in the washing machine? Our squad members have been known to wash their shirts in the washing machine, turned inside out, on the gentle cycle, and in a mesh garment wash bag. If you have a new-style washer without an agitator, this should be very safe. Warning: proceed with CARE! If you forget and leave the garment in the washer - even for a short period of time - be prepared for there to be problems! If your collar gets twisted, washing the garment again should do the trick. Your collar will soften and shape over time to fit you perfectly! This option should only be used with the gentle cycle, attending to the machine at all times!
---

Step 4: Hang or Lay Flat to Dry
One of the worst things you could do to your Sundial shirt is to stick it in the dryer! Your spandex-based fabric is made up of elastic fibers, meaning it will shrink when exposed to heat! Definitely not fun. The heat from the dryer will also break down the elastic fibers - meaning your garment will lose its elasticity over time and stretch out.
The best drying technique? First, blot excess water from your garment by using a towel. This may require using several towels! Second, make sure there isn't any water dripping from the garment. Then hang or lay flat to dry!
---

Step 5 - Steam & Store - but Never Iron
The best way to get any wrinkles out of your garment is to use a steamer! Whatever you do, don't use an iron! Your specialty fabrics will melt if an iron is applied, leaving burn marks.
Now onto storage. The best way to store your garments is to hang them, which will avoid twists or wrinkling. Most importantly, store them in a breathable container, like a old pillowcase. Avoid plastic or nylon garment bags - these will trap odors, and can get hot and damage your shirt if it's left in a hot trailer! Keep your shirts in a temperature controlled environment like your closet in the house. And ALWAYS make sure your garments are dry before storing. Damp items will smell if put away wet.
---
Hopefully this helps answer any care questions you may have - if you follow these 5 steps, you'll have your shirt ready for the next show!